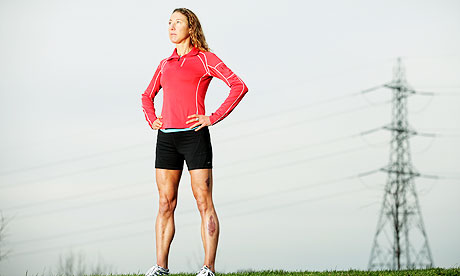 Chrissie Wellington - Guardian Newspapers

I like the title and I like the sentiment .It is the title of Chrissie Wellington's Book.Oddly it is the title of a book by Nick Vujich an Australian born with no arms or Legs.

How do you have Limits when Nick is living life without Limits

As part of her promotion of her book which has just been released , she was interviewed for the guardian newspaper. It is an insightful piece about the woman. Despite the body image issues she has a steely determination that comes with the need to obsessively overcome these demons. Hence borne from the ashes of these insecurities and fears is a World Endurance champion. I can't help but think ironically she has also inflicted on the majority of the male endurance fraternity , particularly the pros , a new set of psychological insecurities and fears in the process of dissolving hers.
Donald Mcrae the journalist who interviewed Chrissie writes:
She has won four world championships – but Wellington is even more impressive when revealing the corrosive insecurities of her past. "The times and number of victories I've managed matter less than the continual surprise I feel. It's so empowering to defy your own perceptions of what is possible and to keep on opening doors within yourself that you didn't know even existed. Looking back five years ago this month I would never have predicted anything that has since happened."







What is equally impressive is her athletic talent .She ran as an occasional jogger a 3.01 marathon. I recall seeing her at the inaugural Singapore 70.3. My first year in triathlon and my second Ironman 70.3 . She was an unknown and in a month was to win her first of several Ironman Championships.
It is this sport , you come across many such stories and triumphs. It is a reflection i always hold about why triathlon is a special sport. It constantly test not only the body but the mind . It is a thinking sport despite the brute physical aspect of swim , bike run.
It attracts the likes of Chrissie Wellington , Craig Alexander , the Holts , Sister Buder , and many others who lead very average lives with extraordinary goals . . It is reinforced by the people I meet daily and train with daily.
For Chrissie she is having a break. All that means is she is content with her achievements for now and her energies will turn to other frontiers such as running a 2.20 marathon and fund raising for her chosen charities.
As the title of her book suggest ...Living Without Limits is achievable. It is like everything one sets out to achieve. You start with a desire, a goal , a plan and you train your body and your mind and have the heart to reach beyond what you could hope to achieve.
That is what Triathlon teaches . You reach a little further and you surprise yourself. I will falter often but that only makes the dream all the more desirable and the journey hard . After all , I am no Chrissie Wellington ...