It is approximately 17 days to Ironman Busselton. The hard weeks are done and I have just one more longish ride before the Taper begins.
It was a hard week last week and I opted for a rest day on Monday. my programme had a 2 hour run but I was really only going to do a 90 minute run but in the end I did nothing. The quads were pretty sore from the weekend rides and I knew with Tuesday super session of hard ride and interval work out it was going to be worse.
On Tuesday I got out to Nedlands running a little late and rode hard from the City so I effectively started my session at 5.20am. I did one lap of the Nedlands loop and saw Mike Kent .I tried to hang in behind him but got dropped after 3 kms when I hit a slight rise. I did the first lap on my own and it was just pain in the quads. On the next lap I began to get into the Exceed groups and by the end of that lap I was with Stuart Phyllis group and just rode behind them . They were averaging at between 35kph and 42kph. It was a good work out and I had my Zipps so I did manage to keep up and took a turn once or twice in the front.At the end of the ride I had an average of 34kph which wasn't too bad for over 50 kms.
In the evening brad had us doing 20 x 200m at "R"pace which was 51 seconds for the 200m for me. I did all the runs at about 40 to 43 seconds. it was a total workout of 7.5km only for the hour. On Wednesday I swam in the morning , I managed only 2.5 km with a short 100m warm up and then we did a 200m , 100m , 100m and a 100m medley repeated that and then a 200m and then another set of 200m , 100, 100m , 100 medley , followed by 2 x 200m and 2 x 100m and a cool down. I just swam behind Glenda as my legs were really tired after the Tuesday run session.
In the evening , I did my run starting off with the slow group from the Running centre . I passed them within the first km and ran alone for the next 5 km when I got passed by the faster group . I ran through the University of WA and then headed to the river and ran back along the river back to the City. It was a total of 13.5 km in about 72 minutes.
I was suppose to ride on Thursday but with the legs being really tired , I again chose to skip the session. On Friday I ran for 50 minutes and did about 9km and in the evening swam for just over an hour doing 3kms without stopping. The day turned out great and it was nice and warm in the afternoon.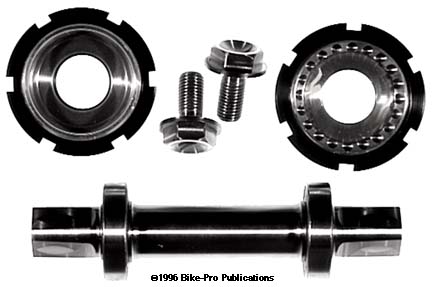 I had my Bike in for a service on Thursday evening with
Bespoke.
cycles. It was a full service and I mentioned the funny noises from my crank and the feeling the chain was touching the derailleur . It turns out when I rang them today that my bottom bracket had broken and was in several pieces. I had been riding over 240kms on a broken bracket.That explains the tired legs as well. They are going to have to get the part and hopefully I will have my bike by Monday. At least I discovered the problem early.
The rest of the training rides will have to be in my Shogun Bike.