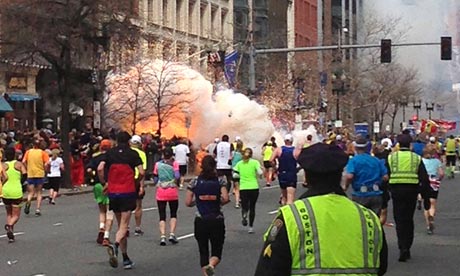 Boston Marathon 2013 .Picture from the UK Guardian in a News piece called The Boston Bombing Produces ...by Glen Greenwald.
Everyday in some of the most troubled parts of the world there is death and misery.It is indiscriminate in so far that the odds of being killed are heightened in places like Somalia , Afghanistan , Iraq and Sudan.
I like many are numb and indifferent . On Monday morning , I switch on my television to news of the Boston Bombing. It is everywhere . That same day 30 people are killed in Iraq. It hardly features. I am numb to the news.Not to dilute the horror of what happened .The callousness of attacking a sporting event and the taking of innocent life , but we seem in this world in this part of the world , focused on what is familiar and clearly closer to home as we could as I did ,envisage my friends and myself on that street. Iraq and the Sudan are distant alien places.
The cries in America and the western world is to unite in sympathy and sadness. My heart goes out to the families of those killed.It isn't right.It isn't right as well that the outpouring of compassion and sympathy be limited to only Boston.
As one writer Gary Younge in the Guardian tweeted:
Iam all up for being Bostonians today Butthen can we be Yemenis tomorrow and Pakistanis the day after .That's how empathy works
In the Guardian , Glen Greenwald wrote an interesting piece on the Worlds reaction
The Boston Bombing...
As a sports mad enthusiast I deplore the use of violence at such an event. but the reaction is a reflection of the Western-centric press and the failure of all people to recognise the extent of the violence everywhere. And then trying to do something about it.
The sentiment amongst sports people is reflected in the letter Messick CEO for WTC sent to I presume everyone on their email list .
Dear Fellow Athletes,





It is difficult to know how to react to yesterday's events at the Boston Marathon. Shock, outrage, hope for the injured, appreciation for those who ran to help, and a deep sense of sadness are all normal for such a terrible situation. We have reached out to the Boston Athletic Association to offer our support in this difficult time.





Terrorism works if it makes people afraid to live their lives fully. We have an obligation not to let that happen. We will continue to live our lives and do our jobs.





I am going running today as a small sign of support for Boston and to show those responsible for the tragic events that we are stronger than they are. I encourage you all to do the same.





Be strong and safe,





Andrew Messick



Then there is the movement to run in a show of support for the Bostonians. Julia Polloreno , editor for triathlete magazine wrote a short piece on her reaction , having worked as the media person for 4 years for the Boston Athletic Association. see
What's left to say
Whilst there is the huge outcry and I have no doubt there is a resilience and a determination to not let the terrorist /perpetrators succeed. I have a cynicism of what some say .
Do we show support for the many who die each day in terrorist attacks including many children , do we go out and run for them.