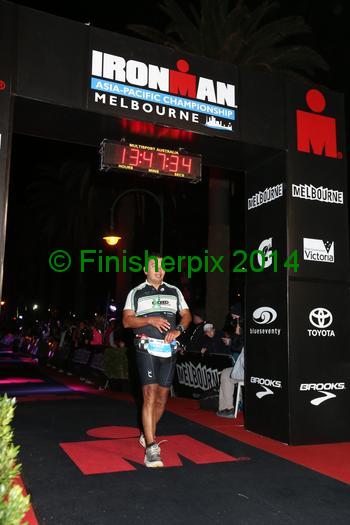 Ironman Melbourne 2014
Its Done . 13.47 . Slow as expected yet remarkably one of the least taxing races I have done . There was no time goals and certainly no unrealistic goals set. I raced without much of a training plan but knew I had enough in the tank to get me through . Doesn't make it any less painful or pretty .
A year ago , IMNZ was a very different proposition.I was just so tired . This time round I felt well mentally but a little guilty I had decided to do Melbourne with very minimal preparation. Best intentions after Busselton evaporated into a lack of focus and work and a slightly twisted version of "the dog ate my homework" .For me it was just spending mornings with Molly my dog rather than training my butt off .But there is a time and a place for training and a plan. For now the enjoyment of a semblance of a life outside training has won through especially after 7 years of being in Triathlon.
It is embarrassing as I look back I see the self obsessive self centred goal focused information absorbing nerd triathlete I evolved into .Broadly you either love the sport or you do a race and move on. Few lie between the 2 extremes. 7 years on I see the almost puppy enthusiasm in the many entering the sport . It wains with time and miles. If only that enthusiasm could be bottled and used for blocks of intense training before an Ironman. The enjoyment now isn't so much a PB although that will be forever a goal but at selective races (probably could only manage a proper preparation once a year) . What has been enjoyable has been catching up with like minded triathletes , meeting new friends.
Ironman Melbourne wasn't on my radar but for the rumour that the course may change and it seemed from the previous 2 years to be a race worth considering.There are not 2 many Ironman races in actual cities as opposed to towns. Having said that as my blog shows , my training sort of went from Busselton Ironman to recovery then to a very long taper. I ran biked and swam but just not enough to have the legs conditioned for a long day. Cross fit did help a long way as that was my only regular exercise that did condition my body somewhat.
The journey began with a very early start from Perth on 20 march at the Perth Domestic airport .Arrived at 4.15 am and then spent the next 1 hour rushing around to check in .Big queues and just got on. Amos Gollach , 18-24 Age Group world champion was on my flight .He said hi and until he identified himself I did not place him even though I had met him and he did swim with the Exceed squad.He was heading to Melbourne for the Triathlon Australia Awards night . I did foolishly asked if he was racing Melbourne . He wasn't after all he did have a spot for Kona already ...silly me. On board was a number of North Coasters . I was just glad I was safely on board and hoped my bike made it safely.
On arrival I got a taxi to St Kilda, home for the next 6 days. The taxi driver could not believe we were about to swim 3.8km ,bike180km and run 42 km . Got to the Novotel and immediately began setting up my bike .Then went down to the registration tent and met Rusty Cook. We caught up and chatted about the sport and preparation or lack of ,for me.I first met Rusty in 2008 on the Tritravel tour of IM Japan .Since then we have ended up meeting at Busselton on a few occasions. Rusty is in the same age group but on the threshold of a top 10 finish and the elusive Kona slot in a very fast age group. I have no illusions , the race is about finishing and hopefully in the future a PB.
In the evening , the Tritravel group met at Leos Spaghetti for the welcome dinner of pizza and spaghetti. chatted with the tour party and the north coasters in the tri travel group . Finally met Kerry Stubs and Donna . One of the highlights was Rupert Guinness was in the tour party. He is the cycling writer for the Sydney Morning Herald and another excellent triathlete. He got a mention in
David Whalsh
book
7 Deadly Sins
.
I recall reading the book when it came out whilst on holiday in Singapore in early 2013 (
Don't cross the line
) I spent a delightful evening chatting to Rupert who was equally gracious in sharing the insight of a cycling journalist who has been to the pinnacle of cycling races and seen the elite close up for over 20 years . Briefly talked about the book and Lance but mainly about his triathlon experience especially racing Kona in 1985 .I had not met anyone who had raced in the 1980s in Kona until then .Another first . I hope I had not come across too much as a drooling lovesick tri nerd. If anything my brain now occupies information about triathlon and its characters that fall into the classification of totally useless information accept possibly at a quiz night on the topic triathlon.What was great meeting about him is that in every corner of the sport, individuals tend to have similar traits ,one of which we are comfortable talking about triathlon much to the utter boredom of others who do not share the passion.
The next day, Friday 21 March 2014 , I got my first swim in a wetsuit since Busselton and the water was great .It was pancake flat and a balmy 19C . After the swim the Tritravel group did a short 5km run and then headed to the
Cafe Racer
for coffee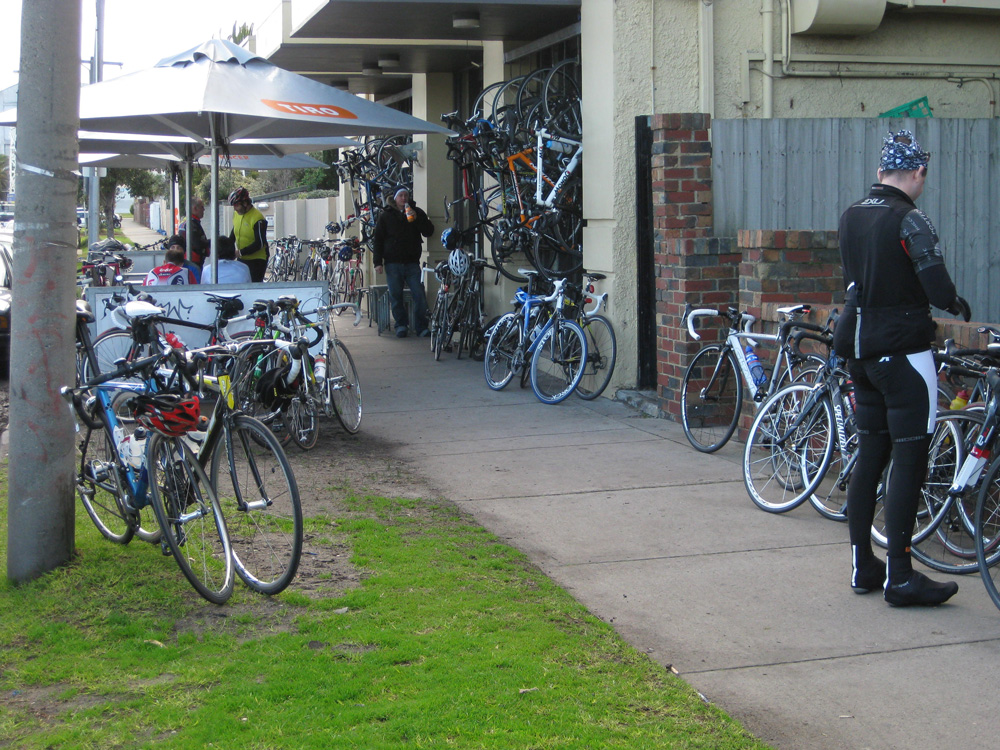 Cafe Racer at St Kilda's
The rest of the day I rested and took the bike for a short 12 km ride to make sure everything was working. I had to ditch my front race wheel as it had a crack so I was racing with the front regular wheel. In the evening it was the race briefing at The Palais Theatre just a short walk from Novotel and the weather had become overcast and cooler.Hopefully not a precursor for Sunday's racing weather.
I did Facebook the pic below with the caption why do I attend these briefings...after a while they do become a little mundane but it was worthwhile with Greg Welch being inducted into the Australian Ironman Hall of fame (whatever that is) .But it was great to see such legends of the race as Welch and Alexander . The rest of race briefing was just a blur. I caught up with Clifford and Enrico and Craig with Mim and Mel for pizza nearby after the briefing.there was no carbo loading dinner just a voucher to eat at restaurants in the St Kilda area.
Why do I attend Briefings?
Greg Plucky Welch being congratulated by Crowie at the race briefing following his induction(picture from Welchy's tweet)
Enrico and I after the race briefing (pic from Clifford lee kona Ironman)
The gang at dinner... sort of carbo loading
The day before the race , I had a good nights sleep and got up late with the bike being dropped taken to Frankston at 9am with us to check in our bike and run bags .The drive down was about 50 minutes but the check in process was smooth.There were no hassles and I was planning on a quick swim but with less than an hour before we returned to St Kilda I decided to just relax and have a coffee. The weather was nice and cool and the forecast was going to be for possibly some rain on Sunday. I had packed arm warmers and a layer of clothing for the run.